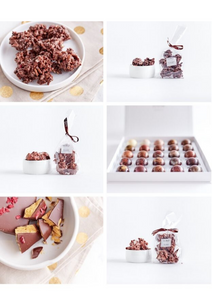 *METRO  MELBOURNE DELIVERIES ONLY 
Gift box includes:
Almond Clusters 100g

Rocky Road 100g
Chocolate Crackles 100g
Honeycomb 100g
Coconut Rounds 100g
Sprinkle Rounds 100g
Caramelised Hazelnut Rounds 100g
Fruit & Nuts Rounds
Raspberry Rounds 100g
25 piece Orb Collection
Allergens: Contains milk, soy, gluten, sulphites, sesame seeds and tree nuts. May contain traces of egg and peanuts.
Products may be switched to alternatives. Please contact us here or come in store to see what options are available.